Who are we?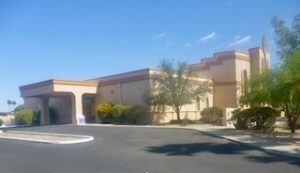 Unity of Surprise was founded in June 2002 by Reverend Billie Martini and 15 dedicated supporters.  In 2019, Reverend Billie retired and Reverend Denise Landes is the new Senior Minister.
Today we meet in Sun City West and have over 30 members and many more attendees.
In our 19th year as a community of love, we honor diversity and value worshiping, learning and growing spiritually in a safe, fun environment.
We offer inspiring Sunday Worship Celebrations, spectacular music, a foundation of prayer, spiritual education classes and workshops, and many social events.
Our Vision
Unity Light of Grace's Vision is to be a beacon of Loving Light that shines into the world.
Our Mission
Our Mission is to uplift and inspire all people.
Core Values
Living our purpose and our mission, we affirm our oneness, demonstrate unconditional love and acceptance, teach Truth, embrace diversity and change, and dwell in a consciousness of prayer. We are committed to letting our light shine and to bringing the light and the Unity teachings to all seekers in our community and beyond.
Meet Our Minister
Reverend Denise Landes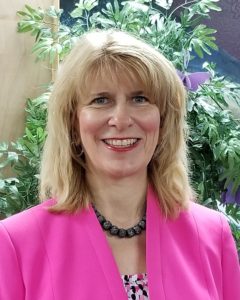 Reverend Denise is originally from Anderson, Indiana.  She moved to Arizona in 1991.  She graduated from Ball State University with a degree in Accounting and later obtained her CPA license.  During those accounting years, Denise found great interest in taking classes at Unity of Phoenix.  Each class was just so inspirational and soul filling that she kept taking classes till she finished the requirements to be a Licensed Unity Teacher.  Shortly after that, she received the Divine inspiration to become a minister.  Reverend Denise went to Lola Mayes New Thought Seminary in Mesa and became an ordained New Thought minister in 2004.  While keeping her accounting career as Controller at Barrow Neurosurgical Associates, she taught the Bible classes at the New Thought Seminary for three years and volunteered at Hospice of the Valley for many years.  Also during this time, Reverend Denise served as a prayer chaplain and a Board member of Unity of Surprise.  She served as the Board President for three years and as the Board treasurer for three years.  After being extremely busy for so many years, Reverend Denise decided to resign from her accounting career and to follow her passion for ministry.  She initially pioneered her own church called The Light of Grace church.  However, when Reverend Billie, the pioneering minister of Unity of Surprise, decided to retire, Reverend Denise merged her church into the Unity of Surprise and accepted the job of senior minister of Unity of Surprise.
Reverend Denise has a great love of the Bible.  She has study Charles Fillmore's metaphysical interpretation of the Bible for the past eighteen years.  This is truly her area of expertise.
Reverend Denise also has another passion in life which is dancing.  She has taken ballroom dance lessons for several years.  So when given the opportunity you will see Reverend Denise out on the dance floor having fun.
---
Meet Our Staff
 
Reverend James Crowley – Minister of Music
Reverend James Crowley began working in Unity churches in the spring of 1993, as a soloist. And this year, 2018, he is celebrating twenty-five years of being a part of the Unity movement. He has always enjoyed playing piano and singing and making music in general. In the past, he composed scores for several musicals, one of which enjoyed a small production in New York City.
In addition to working as a music minister, James has written three children's novels, two of which were released in 2013. Finally, after so many years in Unity, he felt it was time, and  completed the path to ordination in 2014. James has been music director at Unity Church of Surprise for twelve years.
---

Rev. Mary Dunn, Pastoral Care Ministry
Rev. Mary has led our Prayer Chaplain program for several years, training and coordinating this important team of Unity Angels that stay in contact with our members monthly.
---
---
Meet the Board of Trustees
Our Board of Trustees shall consist of the Senior Minister and six (6) Trustees elected from the membership of the Church. No elected Trustee shall serve more than two (2) consecutive three (3) year terms without an interval of one (1) year between terms. Officers of the Board shall consist of a President, Vice-President, Secretary and Treasurer. All officers shall be selected at the March board retreat in a manner decided by the Board. Officers shall hold their respective offices for one (1) year or until their successors are elected. Prayer is important in addition to adhering to the normal procedures for the legal functioning set forth in the Bylaws, that the spiritual principles taught by Unity be utilized in the handling of decisions before the Board of Trustees. during the discussion of an item of business, any Trustee may request time for prayer about the issue.
---
2021 – 2022 Board of Trustees
---
Rev. Mary Dunn, President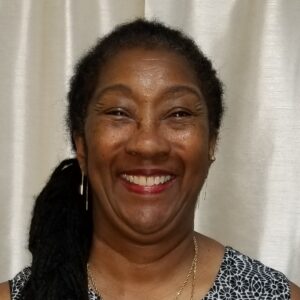 (Rev. Mary is also our Pastoral Care Ministry leader who coordinates our Prayer Chaplain training and scheduling program.)
My name is Mary Dunn. I would like to serve on the Board of Unity of Surprise to participate and to serve in a more comprehensive way. We are growing. We have already experienced positive changes. I would like to serve on the board to be part of the new changes to come.
I initially came to Unity of Surprise in 2014 to serve as the Volunteer Coordinator. After 2 years of service, I returned to the Unity Urban Ministerial School to complete the ministerial program. I completed my ministerial internship at Unity of Surprise.  I was licensed and ordained as a Unity Minister in May 2018. My son, Toure' Barksdale, presented my Bible to me at the Ordination service. My first-born son, Masais Barksdale was present at the ceremony for me at Unity of Surprise. Toure' Barksdale is a physician; practicing in Physical Medicine and Rehabilitation at the Mayo Clinic in Minnesota. Masais Barksdale is a Biomedical Engineer. He plans to return to school to become Psychiatric Nurse Practitioner. Both of my sons were raised on Unity principles.
I have served as a Prayer Chaplain for seventeen plus years; serving the last six years at Unity of Surprise. I am involved in teaching new and returning Prayer Chaplains.   I served one term, three years, on the board of a large Unity Church. I served as Vice President during my last year.
I have been in leadership roles in my work as a Nurse Practitioner and in research. I have served as a Licensed Unity Teacher. I have a strong prayer practice and consciousness. I care about the Unity of Surprise community. It would be an honor to serve on the board and be involved in making positive changes for the future.
---
Valerie Griffin, Treasurer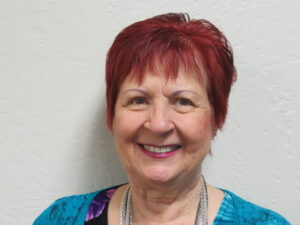 (Bio in-progress)
---
---
Jan Karns, Discernmentarian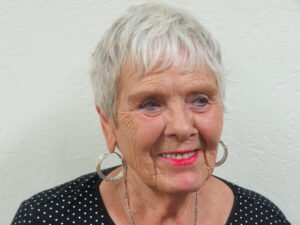 ---
Secretary
Membership in Unity
Rather than being a system of worship. Unity is a way of life. Members are asked to do their best to live the Truth teachings on a daily basis. The objective of Unity affiliation is to help people live more effective, Spirit-centered lives. Unity is a present-tense approach to the teachings of Jesus Christ.
Unity people unite in order that they might minister more effectively to one another and to others. By our commitment to the sharing of consciousness in membership, we become the channel by which others, too, are blessed in their lives.
Each Unity ministry is an individual corporation, affiliated with the parent corporation, Unity Worldwide Ministries. Each ministry is an individual corporate entity; it is entirely self-governed. A Board of Trustees is elected from the membership at an annual membership meeting. The Board of Trustees conducts the business affairs of the ministry in cooperation with the minister, who is the spiritual and administrative leader of the ministry.
---
Support
A member of Unity is one who lives its Truth and its services and who supports that love and services as fully as possible. Emphasis is placed on the spiritual value of tithing.
For the most part, all other services are offered on a free-will love offering basis.
As we accept membership in Unity, we have a definite part in our ministry through attendance, prayers, and involvement. We commit to a moral responsibility of spiritual and material support according to our own consciousness.
In Unity, a premium is put on prayer – a special kind of prayer. We practice a style of prayer known as denial, affirmation and silent meditation. This kind of prayer frees us from limitation by acknowledging the indwelling presence of God (which is also called the Christ within) as the only power and allowing divine qualities to flow through our minds, hearts, bodies, and affairs.
Jesus Christ plays an important role in the Unity lifestyle. We recognize Jesus Christ as the ultimate Way-Shower to the truly spiritual life. Through His teachings and the example of His life, He has provided us with the insights necessary for an understanding of our own spiritual selves. Through this understanding, life is enhanced, enriched, and expanded.
Come, let us pray together
Let us serve together,
Let us join together
to experience the kingdom
of God, of life, peace, and unity.