Featuring Our Sunday Services
Win, Win, Win… A first time visitor to Unity Light of Grace remarked about our birthday celebration on June 10…19 years, "Wow an inspirational message, extraordinary music, money, and food too…. it doesn't get any better than this!"
A member said, "Being a member of Unity Light of Grace is a win, win, win experience. When asked to clarify, he said, "I win listening to an inspirational message each week, I win hearing extraordinary music, and the community and fellowship in all the activities are another winning combinations. So it's a win, win, win!"
What will your experience be? We hope you will join 'US' and share your experience. Everyone is welcome. We are a worldwide multi-denominational Christian organization with an extremely positive approach to life.
---
Memorial Services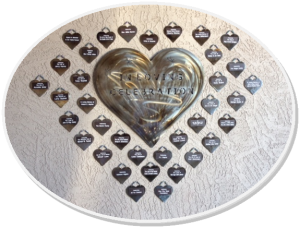 At the time of the transition of a loved one, many people want a service and don't know where to turn.
We at Unity Light of Grace are here to support people in times of grief and loss.
We can provide Celebration of Life ceremonies in our beautiful church Sanctuary or we will go to the location of your choice.
Our Celebration of Life ceremony is positive and uplifting. We honor your spiritual traditions.
Christenings and Baptisms
Christenings and/or  Baptisms are such special times in a child's life. Reverend Denise has beautiful ceremonies for each to celebrate your children or grandchildren's spiritual journeys. Call her for details and times.
Wedding or Commitment Ceremony
Our Sanctuary is such a beautiful place for special ceremonies.
Unity Light of Grace has many ordained ministers to choose from for your special occasion.
Planning a Wedding?
Congratulations and welcome!
We know this day is very important and we will handle your wedding with professionalism and attention to detail, in order to make your day a beautiful, memorable experience.
Our mission is to provide a spiritual environment for weddings, commitment, and vow renewal ceremonies. You need not be a member of our church to have your wedding at Unity Light of Grace. All faiths are welcome.
Reverend Denise Landes is happy to perform a ceremony at your home or another venue of your choice. Please contact her directly.
Phone: (602) 301-5648
Email: [email protected]